COVID-19 UPDATE
UPDATE 16SEP:
Updates will made frequently as hours and/or patron usage is updated; or new facilities are added to the list. All information will be available here and on our Facebook page (fb.com/indianheadffr).

🆕 FITNESS EXPANDED HOURS:
🏋🏾‍♀️ 🏃🏿‍♂️ Beginning Monday, Sept. 14, the Fitness Center will be open M-F from 6 a.m.-6 p.m., and weekends from 8 a.m.-1 p.m. Active-duty can access any day, all others must still follow last name restrictions.

Fitness Center restrictions: Last names beginning in A-M can access on even days, and last names beginning in N-Z can access on odd days. *Active-duty have priority and can access anytime during operating hours, within capacity limits.
🆕 ADDITIONAL MWR REOPENINGS INCLUDE:
Effective Wednesday, Sept. 16:
The Auto Skills Center will reopen to all with base access.
Wednesdays & Thursdays: 1400-2000

Effective Friday, Sept. 18:
Stars & Strikes Bowling Center will reopen to all with base access.
Fridays & Saturdays: 1600-2100
Additional MWR facilities open to all authorized patrons include:
Community Rec Center/Tickets, Mon.-Fri.: 0700-1300
Library, Mon.-Fri.: 0700-1300
Market Fresh Bistro, Mon.-Fri.: 0700-1300
Mix House, command functions only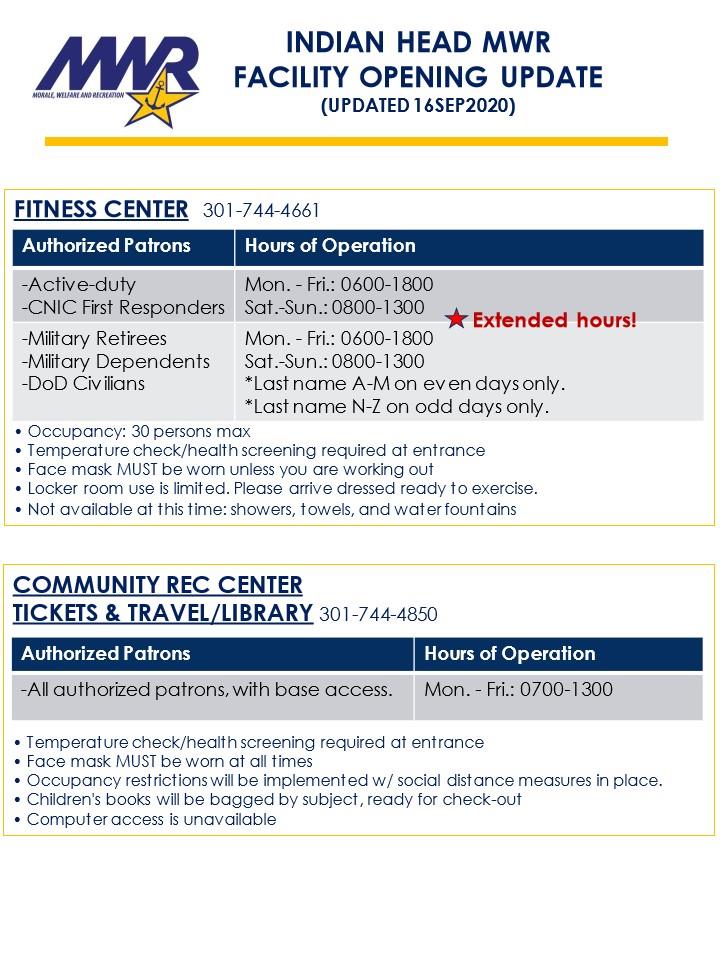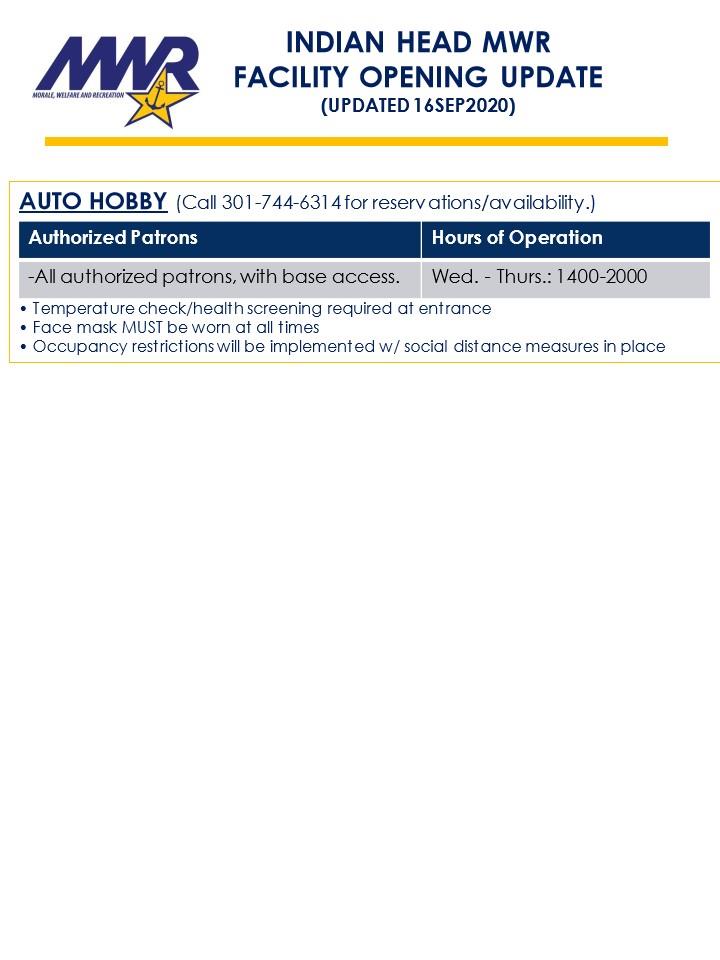 Note: Health screenings will be required at entrance. Face masks MUST be worn. Occupancy restrictions will apply.
---
Attention NAF Employees - Support is available for any NAF employee experiencing increased anxiety, fear or emotional stress surrounding the coronavirus outbreak, it may help to speak to a professional clinician through your employee assistance program (EAP) provided by ACI Specialty Benefits. ACI's EAP is confidential, free to use for employees, and open to all family members. Call ACI at 800.932.0034 or email eapinfo@acispecialtybenefits.com
Download the brochure here.
---
CLICK HERE for virtual Fleet & Family Support Center Webinars.
Scroll down to see more MWR At Home options.
---
LIST OF CLOSURES LAST UPDATED 15JUL2020:

Out of an abundance of caution, the following NSF Indian Head MWR facilities will be CLOSED UNTIL FURTHER NOTICE.
-Auto Skills Center
-Gear Issue/Equipment Rental
-Stars & Strikes Bowling Center
-Tiki Bar/Globe & Anchor
---
"Stay Connected' with MWR At Home
Click here to see all at home activities that include fitness, cooking, kids, entertainment and more.