Tickets & Travel offers discount tickets to attractions such as amusement parks, sporting events, sightseeing destinations, ski resorts and local movie theaters. Information for vacation packages, cruise packages, and Military Travel Voucher Program is available. Brochures highlighting tourist destinations and maps of the local area are available for customers to pick up, too. We encourage all newcomers of Indian Head to visit the Tickets & Travel office. We are located in the Community Recreation/ Library building.
*PRICES ARE SUBJECT TO CHANGE. CALL AHEAD FOR TICKET INFORMATION AND AVAILABILITY!

American Forces Travel makes booking leisure travel simple for the DoD and military community. The only question to ask is, "Where to?" Visit www.americanforcestravel.com to access the best deals available.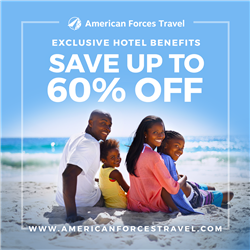 TRAVEL ACCOMMODATIONS
Tickets & Travel may assist you with booking tours, cruises, and vacation packages to include air and hotel accommodations. Call to request a quote.
_______________________________________________________________________________
How are we doing? Please click on the link below to complete a short survey on your experience.